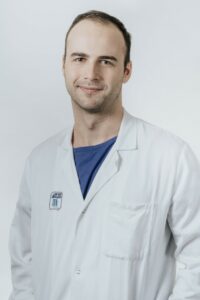 With great pleasure, we present the PhD Student of the Month for April 2022, Vlad Tereshenko. He is enrolled in the N790 programme "Clinical Neurosciences" (CLINS) and works at the Clinical Laboratory for Bionic Extremity Reconstruction, Department of Plastic, Reconstructive and Aesthetic Surgery under the supervision of Oskar Aszmann. Since 2019, Vlad has been participating in the MD/PhD Excellence Programme of the Medical University of Vienna.
Vlad's research focuses on the neuromuscular control of the facial muscles and on the restoration of proprioceptive feedback in bionic hands. Facial muscles are responsible for a variety of over 10,000 specialized nuances of facial expressions which are controlled in an intuitive manner. To date, the control mechanisms of this specialized neuromuscular system are poorly understood. In his thesis project, Vlad investigates the nature of afferent feedback and motor control in the cranial motor systems. These peculiar principles of high-precision motor control in the facial system will be adopted to create a similar biological interface enabling intuitive and highly tuned control of a bionic hand.
Vlad's research efforts have already resulted in multiple publications in peer-reviewed scientific journals such as "Frontiers in Medicine", "Frontiers in Neuroanatomy", "Journal of Advanced Research" and "eLife". Furthermore, Vlad received a lecture award for the best experimental study by the German-speaking Working Group for Microsurgery of Peripheral Nerves and Vessels. Congratulations!