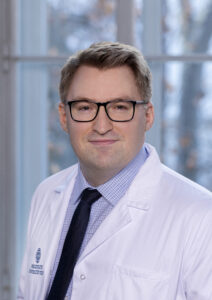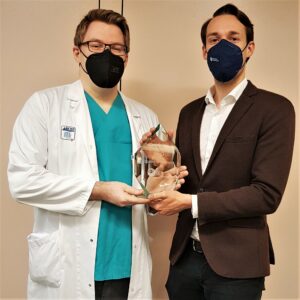 We are honoured to present the PhD Student of the Month for February 2022, Johannes Klopf. He is enrolled in the N094 programme "Vascular Biology" and works at the Division of Vascular Surgery, Department of General Surgery.
Johannes' main research focus is on abdominal aortic aneurysms (AAA) and neutrophil extracellular traps (NETs), both in preclinical and clinical settings. In particular, Johannes performs several surgical murine models within his PhD thesis, where he investigates formation, progression and treatment options of AAA and associated chronic renal insufficiency. His projects aim to elucidate the pathogenetic involvement and detrimental inter-disease specific impact of NETs in these chronic inflammatory conditions. NETs may foster chronic inflammation of various cardiovascular and autoimmune pathologies and may represent a therapeutic target for different disease entities. As research coordinator at the Division of Vascular Surgery, Johannes manages a randomized clinical trial and multiple translational research projects, including a blood and tissue biobank of AAA patients and controls.
Johannes' research efforts already led to multiple publications in peer-reviewed scientific journals, amongst these most recently a first author publication in the top-ranked "Journal of Vascular Surgery". Furthermore, he received several presentation and abstract awards (e.g. Best Young Investigator Award of the European Society for Surgical Research 2020, Award Winner of the Austrian Society of Surgery 2020).